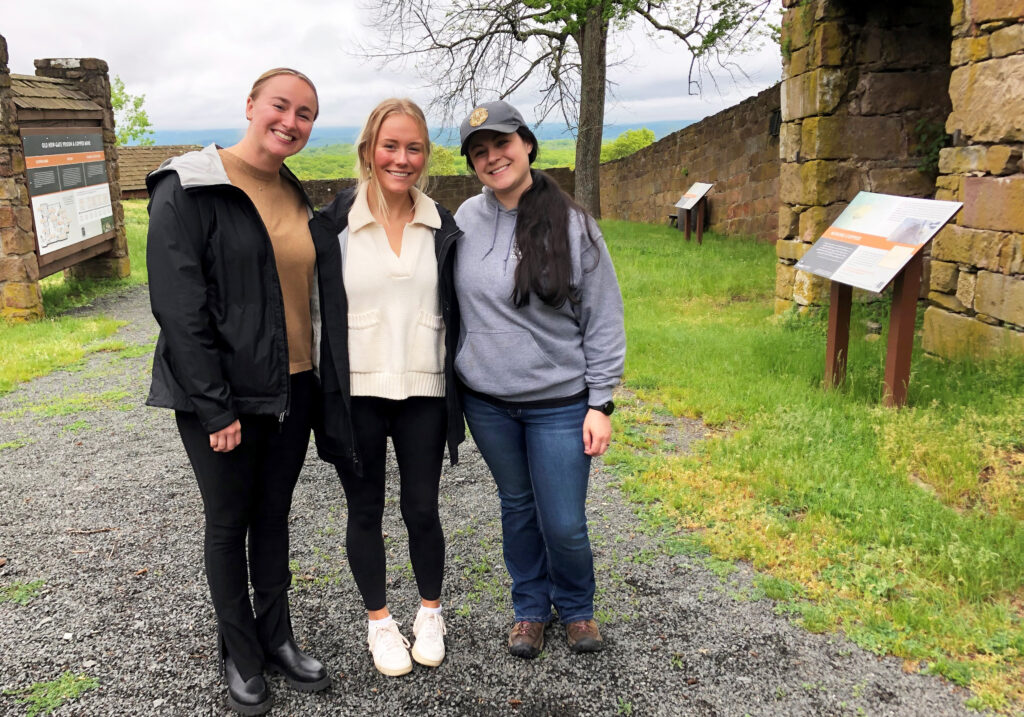 A Public Human Sciences Collective A research project this summer turned two Trinity College students into sleuths of history, as they worked to tell the stories of inmates at the nation's first state prison and investigate the roots of incarceration massive. The PHC is a summer research opportunity that brings together students, faculty, individuals, and organizations in Hartford.
For the project, "Humanizing History at Old New-Gate Prison," Zoë Gill '23 and Madison Wilson '23 spent 10 weeks focused on the long and complicated past of the American prison system. Former New Gate Prison and Copper Mine– located in East Granby, Connecticut, just 30 minutes from Trinity – is nationally recognized as the first chartered copper mine and state prison in early America. Today it operates as a state-run museum.
Working with museum curator and site administrator Morgan Bengel, the students began by documenting the individuals incarcerated at New-Gate, an abandoned copper mine that became a prison in 1773.
Gill, a public policy and legal scholar and formal organizations miner from Newtown Square, Pennsylvania, said: "We started with a list of prisoners that lacked a substantial amount of information. Our goal was to organize the list, making it condensed but as comprehensive as possible, looking at the race and age of the prisoners, as well as their crimes and sentences. We dug into the archives of Connecticut State Library, in prison, and through various digital databases. Gill noted that the most common crimes documented at the prison, which ceased operations in 1827, included horse theft, burglary, and forgery.
Wilson, a double major in Art History and Public Policy and Law from Denver, Colorado, said, "We got help from [digital scholarship coordinator] Mary Mahoney and [research, technology, and outreach librarian] Cait Kennedy of Trinity Library and Information Technology Services to turn the information we had into a interactive web platform to be discovered by museum visitors. It offers a deeper dive into the history and stories of the prisoners. Museum visitors will be able to scan QR codes to access the website.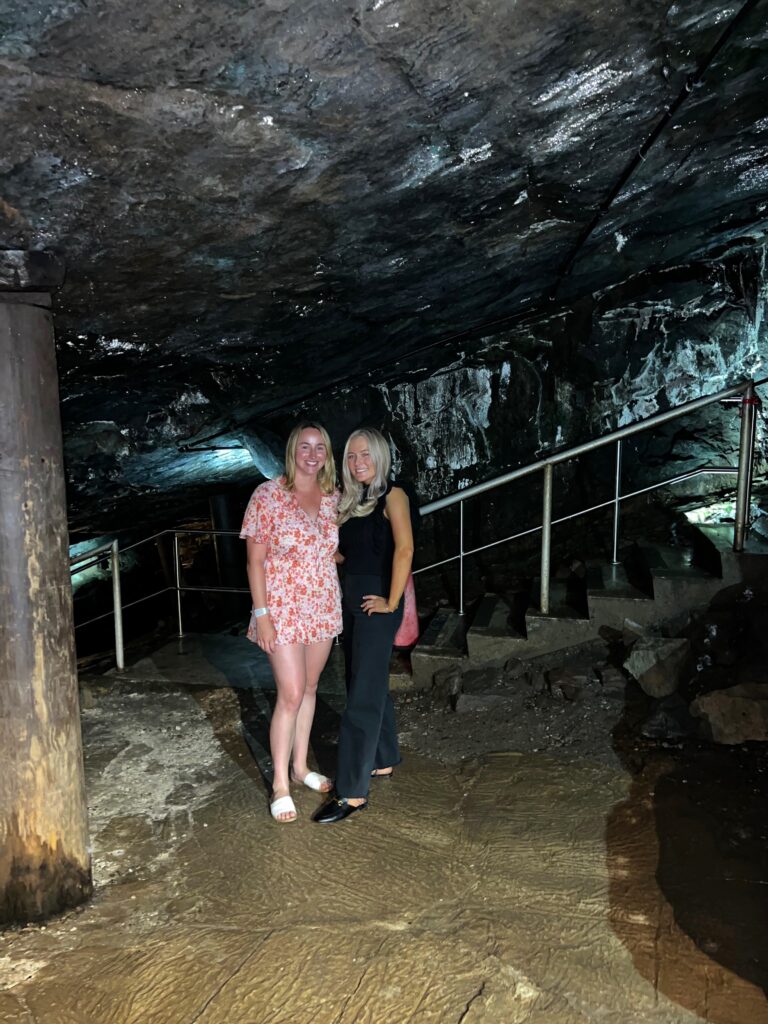 The students said that this project gave them both new skills and a new perspective. "We gained insight into the lives of individuals whose lives often go unnoticed," Gill said. "We also learned how to create a website that we hope will continue with future PHC students or volunteers at Old New-Gate. This project is something that will continue to evolve and grow.
Wilson added, "Visiting America's first state prison and seeing where people were locked up in a copper mine, you can feel how inhumane it is. You recognize the progress the country has made in terms of prison systems, but also how similar prisons today are in some ways.
The data and stories that Gill and Wilson compiled about the prisoners are important historical research that sheds light on what they went through, Bengel said. "Their work will be available to our visitors and audiences to learn more about the history of New-Gate," she said. "We have a limited amount of time with each visitor, so giving them the opportunity to explore further online and have the information approved by us is very valuable."
Bengel added that this project benefits both the students and the museum. "Research on location adds to students' educational experiences because they are able to apply their research and directly benefit the public," she said. "They can know that their work will survive them and benefit the museum and our visitors. I hope this gives them a sense of accomplishment and responsibility for their research and the skills they are learning at Trinity.
In another part of the summer project, Gill and Wilson worked with the Professor of Public Policy and Law Practice Glenn W. Falk study the history of American prisons and the roots of mass incarceration.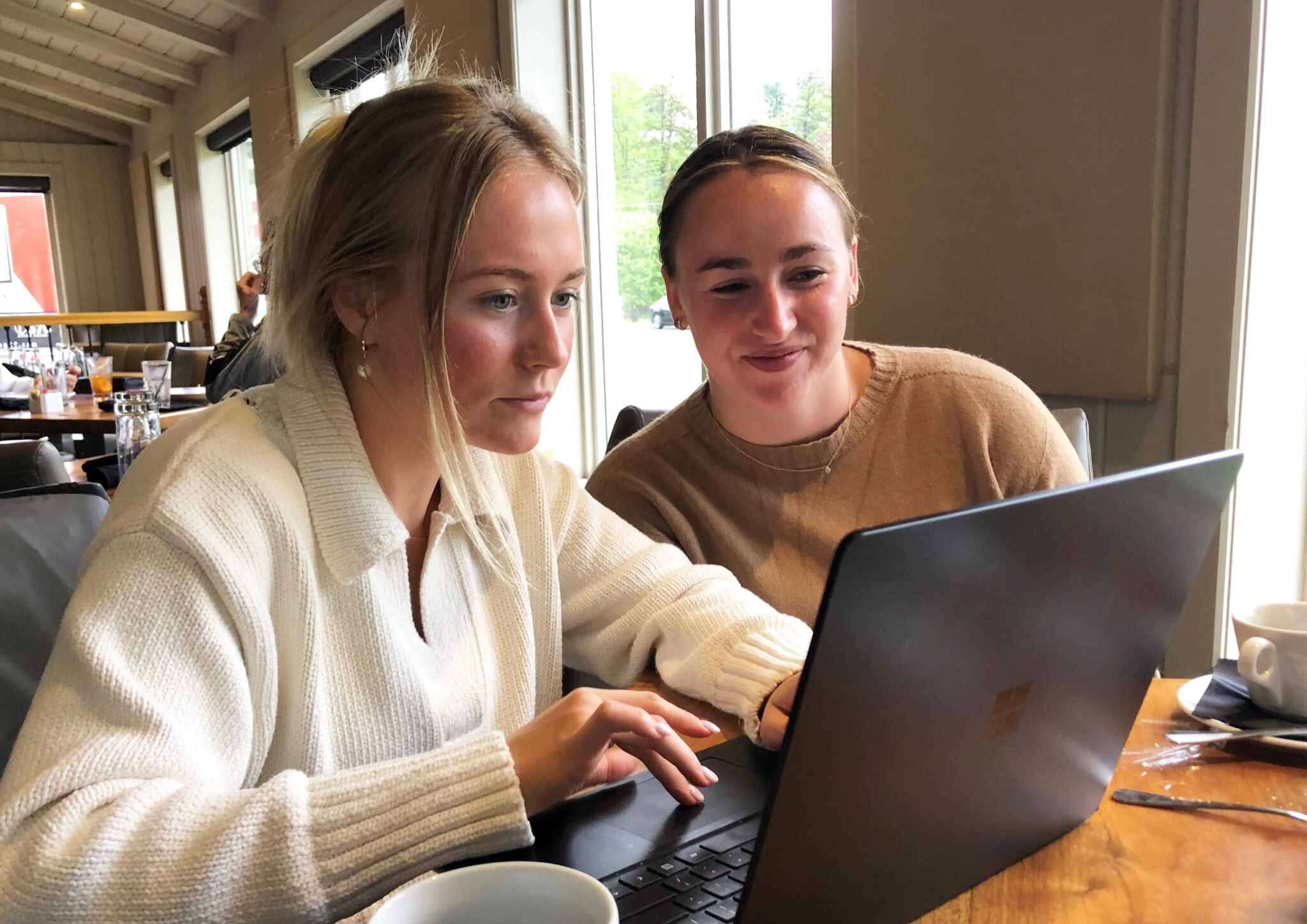 Wilson said: "We are helping with research on the Van Wormer brothers, three young men imprisoned and executed in Dannemora, New York, in 1903, and Anthony Spitzka, a scientist who believed the death penalty should be changed from hanging to the electric chair. "
For Falk, research at New-Gate represents the intersection of his interests in law and history. "I was a special public defender, so I spent a lot of time in jail," he said. "With this project, I am looking for the origins of the various problems of mass incarceration and racism and the overly punitive nature of our system. The Public Humanities Collaborative allows me to expand my teaching and introduce students to this type of work, and it also helps this local institution.
This is the second summer that Falk has worked with Trinity students at New-Gate on this PHC project. "Part of a liberal arts education is understanding law as part of a whole range of human activities," he said. "This project unites the present and the past, and it provides insight into the public policy and legal issues that we still face today. Being able to visit the actual prison, you appreciate more what the real experience of being incarcerated is like. It helps build a strong legal background when you can go beyond reading a court decision in a classroom. I think it inspires some people to pursue a career in the criminal justice system or in the legal profession when you can be directly involved in that way with documents and with the physical site. It adds to the intellectual experience immeasurably.
To continue his summer work, Gill plans to write a senior thesis, supervised by Falk, on the evolution of capital punishment. Gill has previously interned with the Innocence Project and hopes to attend law school after Trinity. "This summer has clarified that criminal justice is a path that interests me," she said.
Wilson plans to pursue an independent study to continue this project in the spring. Wilson said: "It gave me a chance to combine my two interests working in a museum and in the legal system. A career in museum law is something I would see myself in.