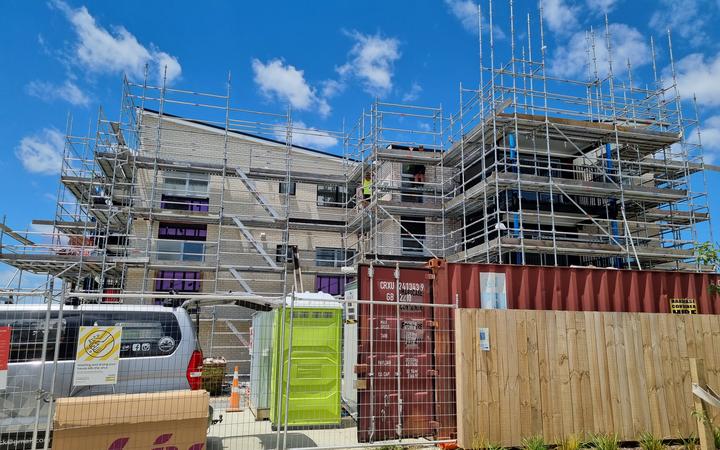 Despite a record number of permits for new homes issued last year, construction could still be delayed due to lack of workers and materials, builders say.
There were 48,522 new homes granted in the year to November 2021.
Building Industry Federation chief executive Julien Leys said the industry would not be able to build them all.
"It's great on some level to have a record number of permits for new homes, which we need, but we have to accept the fact that we don't have enough builders or actually materials. "
Leys said that in a time without Covid-19 or other disruptions, New Zealand was building just 40,000 homes a year.
Some builders were booked for the next 12 to 24 months and there was a shortage of skilled workers, such as carpenters, quantity surveyors and truck drivers, due to border restrictions.
Leys said the past 18 to 24 months had been a "perfect storm" during which builders also waited longer for lumber, timber framing and other materials.
"The industry is going through a boom time. Unfortunately, builders have to turn down work and people who have gotten some of these consents will either have to wait a very long time if they're lucky, or in some cases the houses won't just won't be built, unfortunately."
Leys said many builders were planning ahead and placing orders for materials much earlier than before, even though some were having cash flow issues.
He said the government should allow more skilled workers to cross borders.
"The challenge we have in 2022 may well be even greater than the challenges we had last year, and I think this year 2022 will be a shortage and a lack of skilled people rather than a shortage of building materials. construction."
Auckland-based Chancellor Construction director Wayne Zeng said many of the consents were for high-density housing.
"What that means for us is there's more work than a few years ago when builders were building bigger homes and now we're building smaller homes."
It required more resources, skilled workers and materials, he said.
Zeng said that although the problems are the same as those facing many countries amid the Covid-19 pandemic, there are things authorities could do to help.
"Local council authorities could consider more substitutions and flexibility in material sourcing, and revamp and review the current building code to help builders."
Nelson-based builder Richard Merrifield agreed the industry faced challenges and said authorities should encourage innovation.
"Are we continuing to build houses the same way we have for years or are we looking at more innovative ideas? There are bright young people in the industry who will think outside the box, who will find solutions to these problems."
Building and Construction Minister Poto Williams expected high levels of residential construction to continue for some time.
She said the government would continue to work with the sector to help minimize the disruption caused by Covid-19.