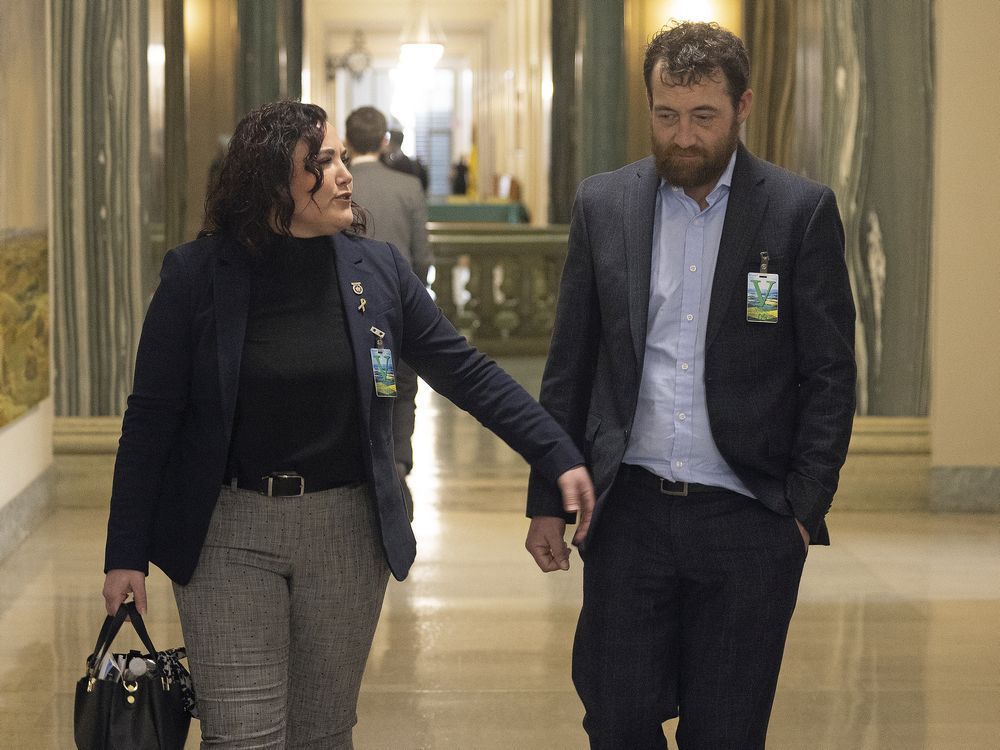 The Dulles are among nearly 35,000 people on the province's surgical backlog list as health centers continue to face pressure.
Content of the article
Gillian Dulle's eyes began to fill with tears as she explained the difficulties she and her husband Brennon had to face while waiting for him to undergo brain surgery.
Content of the article
At the end of their tether, the Dulles took their concerns to the Legislative Assembly, hoping the government could provide answers.
"I think everyone has the capacity and the resilience to deal with certain circumstances, but there comes a time when that capacity runs out," Gillian told reporters after the issue arose during the period. questions. "We are at the point of capacity exhaustion."
The Dulles are among nearly 35,000 people on the province's surgical backlog list as health centers continue to face pressure due to understaffing.
Gillian said they've been waiting two years. Brennon needs a pre-op procedure, but they don't know when that will be.
Brennon, who has severe epilepsy and has already had two surgeries, said her situation seemed out of control.
"I can't get the medical help I need in Saskatchewan," Brennon said. "It's very difficult because Gill has two jobs at the moment."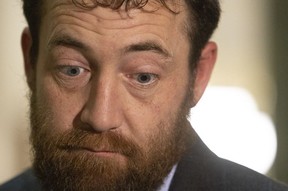 During Question Period, Health Minister Paul Merriman said he had undertaken to meet with the Dulles after hearing their concerns.
Merriman told reporters he's heard from many families talking about challenges with surgeries or extended program delays.
He acknowledged that it took the department about 60 days to respond to Dulle's concerns, which he says isn't the best response time.
"We always get a lot of people," Merriman said. "We've actually assigned additional people to correspondence to make sure we respond quicker and quicker from a patient perspective."
Content of the article
During Question Period, the NDP accused the situations faced by people like the Dulles of being unacceptable and unsustainable.
Health critic Vicki Mowat told reporters the backlog is the result of a system that is overwhelmed and facing staffing issues.
"It's not just that the government hasn't prioritized getting the surgical backlog under control, that's certainly part of it, but it's also about greater pressures on the system," Mowat said. . "That's the problem with letting your healthcare system come to this. There are no magic bullets, but what we can do is make sure the staff is available.
Merriman said the province was spending an additional $21 million to enable 7,000 more surgeries this year, adding that was a problem in many provinces across Canada.
He said 96% of scheduled surgeries are in progress. Doctors prioritize surgeries based on their urgency, he added.
"We respect their decisions on who gets priority in the OR," Merriman said. "That's why we're also moving some surgeries to the private and publicly funded area so we can perform other surgeries, such as some of the minor surgeries."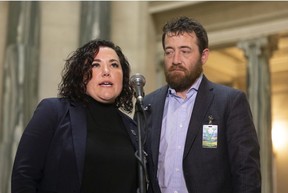 Saskatchewan has also launched a recruitment and retention plan to see more employees working in the health system.
Despite the need, many health workers expressed burnout, which Brennon noticed.
"My doctors are very stressed. Very, very stressed," he said. "They are very overworked and frustrated."
Content of the article
Gillian said she felt there was little compassion when she came to the Legislative Assembly.
"With all the stress they are going through themselves, one thing we have always seen is that we have received compassion and care from doctors, nurses, paramedics…on the whole nine yards," she said. "I feel like that compassion was missing when we came here (Tuesday)."
News seems to be flying towards us faster all the time. From COVID-19 updates to politics and crime and everything in between, it can be hard to keep up. With that in mind, the Regina Leader-Post has created an Afternoon Headlines newsletter that can be delivered to your inbox daily to ensure you are up to date with the most vital news of the day. Click here to subscribe.