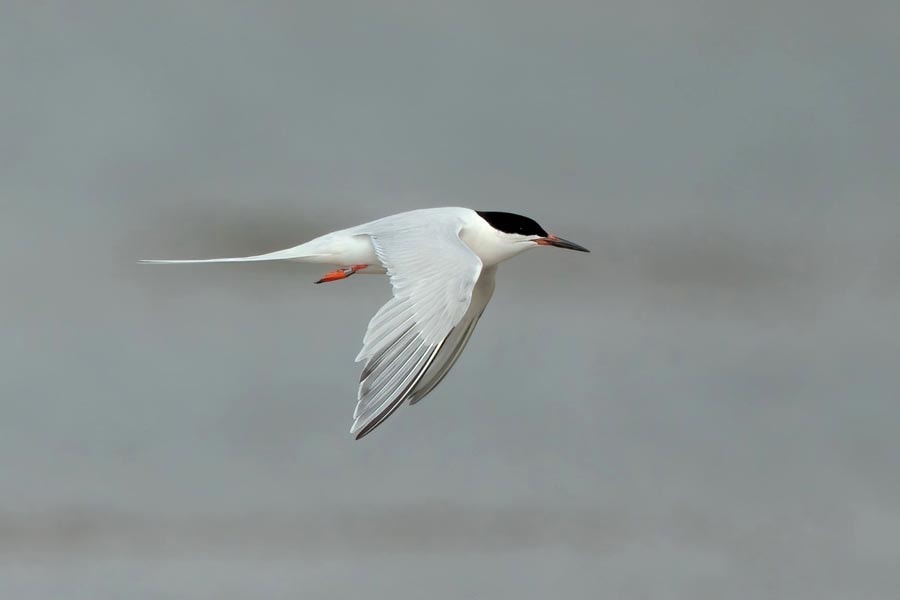 The Roseate Tern has broken nesting records for the sixth consecutive year as the population on Coquet Island in Northumberland increases once again this summer.
A total of 150 pairs bred in 2021, rising from 104 pairs in 2016. This is the result of dedicated conservation work to help the species, which remains the rarest nesting seabird of Great Britain despite its recent recovery.
The Roseate Tern almost disappeared from the UK in the 19th century due to the demand for feathers for women's hats. In 1989, there were only 467 breeding pairs in all of Britain and Ireland, but conservation efforts have brought the Irish population to 1,989 breeding pairs, in addition to the record number on Coquet this summer.
Roseate Tern numbers are at an all time high on Coquet Island, Northumberland (Douglas Dickson).
The summer of 2021 was also a record season for breeding pairs of Common Terns and Kittiwakes on Coquet Island, the latter of which are on the Red List of Conservation of Concern. This year, longtime volunteer and award-winning blacksmith Stephen Lunn created custom "Kittiwake Hammocks" to serve as additional nesting spaces on the cliffs. These were very successful and helped increase the number of breeding pairs from 453 to 466.
Paul Morrison, RSPB Northumberland Coast Site Manager, said: "I have been working on Coquet Island for almost 40 years now, so I remember when there were hardly any Roseate Terns on the whole island. Their growing number in recent years is a true testament to all of our amazing volunteers and staff – they spent lockdowns in a lighthouse, stayed awake all night to protect the eggs from disturbance, and forged metal Kittiwake ledges! I can't thank them enough, and I can only think that with a team like this, Roseate Terns will continue to grow stronger.
"But no single reserve can reverse nature's decline – we must all work together to give wildlife the habitat and resources they need to thrive. With the United Nations Climate Change Conference, With COP26 fast approaching, the UK government must not miss its chance to become a global leader in connecting nature and climate crises, restoring our precious natural resources and reviving our world. "
Conservation efforts on Coquet Island have been reinforced by the EU-funded Roseate Tern Recovery Project LIFE. This five-year partnership project between the RSPB, the North Wales Wildlife Trust and BirdWatch Ireland focused on protecting the three remaining Roseate Tern colonies in Britain and Ireland, while restoring five of its historic sites for potential recolonization and laid the groundwork for subsequent reestablishment. .