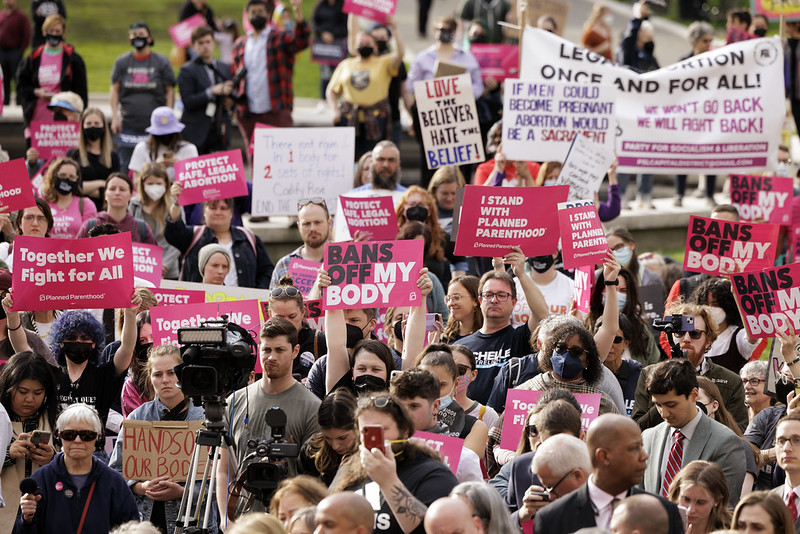 A rally for abortion rights in New York (photo: Mike Groll/Governor's Office)
---
The Supreme Court's horrific decision to overturn Roe isn't just a blow to women's autonomy over their bodies, it's a powerful reminder that tackling the real impacts of sexism and inequality gender is not on the national agenda as much as it should be.
Right now, women – especially women who are already living paycheck to paycheck – are at serious risk of falling off the economic cliff, with disastrous consequences not only for them, but also for their families and communities. For most people, including women, housing is their biggest expense. And it's increasing.
That's why, with the economy slowing, inflation rising, and the pay equity gap exacerbated by covid, developing affordable and sustainable housing is more important than ever.
Women are paid less than men. Much less. White women are the best, earning about 79 cents for every dollar earned by a white man. Women of color earn even less. Black women earn only 63 cents for every dollar white men earn, and Latinas fare even worse, earning only half of what white men earn.
Women are also increasingly likely to be the sole or primary breadwinner in their family. And the economic impact of covid has hit women disproportionately, either forcing them out of the labor market due to childcare duties or putting women out of work in sectors like education and health, where women are overrepresented. This is on top of the fact that female-headed households are already finding it harder to pay their rent.
Now the Supreme Court has added forced motherhood to this already financially toxic sea. Women will be forced to spend hard-earned savings or borrow money to travel to have an abortion. They will lose their jobs because they will have to take time off work to get treatment. Others will be forced to have children they cannot afford.
All of these things put together mean that women are at great risk of losing their homes.
To help alleviate the growing economic challenges women face, we need more affordable housing. That means two things have to happen, and they have to happen quickly.
First, we need new housing models. "Affordable housing" is often defined as housing that a) costs less than one-third of a person's gross income and b) is only available to families whose income is well below the median income of a geographically defined area. Avoiding the "rent burden" is a good financial measure, and it is also fair to target low- and middle-income families in jurisdictions where the market cost of housing would make them rent-burdened.
But that's far too narrow a definition of affordability. Housing is not "affordable" if it requires an average and expensive two hour commute or if he says "no" to a new job because it is too difficult to get to and moving is not on the table. It's not "affordable" if you have to force a child to change schools or move to a neighborhood where they don't feel safe.
For decades, the dominant policy and financial approach has been to separate market-priced housing from affordable housing. In practice, this means that wealthier people generally find housing that meets this financial metric – and that also preserves their quality of life. We have not given the same options to those with fewer financial resources.
Beyond this question of equity, the division of families according to income is one of the things that exacerbates social inequalities, leading to significant differences in economic, educational and health outcomes.
It is time to do otherwise. We need a real mixed housing approach that brings people together and gives them equal access to quality schools, healthcare, economic opportunity and social infrastructure.
Second, we need private investors to be a bigger part of the solution and to invest in these different models.
Providing affordable housing cannot be solely a matter for the public sector. We need private investors to understand the financial and social benefits of mixed housing and the public sector to establish policies and programs that incentivize and reward investors to think outside the box.
By forging true public-private partnerships that are predictable yet flexible, we can increase housing production and provide more affordable housing to those who need it.
The need for safe and affordable housing for women will only increase. We know from experience that to meet women's needs, women must be at the table. Gender matters. So let's make a concerted effort to direct capital and opportunity to women-led businesses – be they architects, developers or, in my case, property fund managers. Let's give them a chance to do it differently and do it better.
To be clear: Building housing that works for women is not the answer to the overturning of Roe v. Wade. The answer to that is to keep fighting until those rights are restored.
In the meantime, we must do everything we can to ensure that women have the support they need to stay afloat economically in stable and affordable housing.
***
Alicia Glen is a national housing expert and the former Deputy Mayor for Housing and Economic Development of New York City. She is the founder and CEO of MSquared, a women-owned real estate development and impact investing platform that builds affordable mixed-use housing. On Twitter @AliciaGlen.
***
Have an opinion idea or submission for Gotham Gazette? E-mail This email address is protected from spam. You need JavaScript enabled to view it.