A group advocating for humane housing conditions provided by the National Affordable Housing Project for Urban Renewal raised eyebrows at the deposit rate demanded by Nairobi Metropolitan Services (NMS).
Jericho Lumumba is one of 10 areas that are targeted for upgrade by the NMS and residents have been promised first priority.
Jericho Lumumba Residents' Association (JLRA) president Walter Ogoli said the initial deposit of 10-12% required by NMS is prohibitive for the majority of residents in the estate.
"The majority of tenants on the estate are at the bottom of the income scale. Requiring such rates means that many will be denied homes. President Ogoli said at an engagement forum at Charles New Methodist Church attended by the deputy director of NMS's affordable housing program for urban renewal.
Affordable housing located along Park Road in Ngara, Nairobi County.
Deposit
The NMS requires payment of Ksh 1 million for one bedroom accommodation, Ksh 2 million for two bedroom accommodation and Ksh 3 million for three bedroom accommodation respectively.
"Residents' demands to hand over Ksh 300,000 or 10 percent of the amount signal an intention to deny cardholders the right to own the houses," Ogola added.
The association also wants the NMS to add 3,000 additional units for the benefit of tenant siblings as part of the affordable housing policy in addition to the 1,388 units promised by NMS.
The president proposed the allocation of free 3 bedroom accommodation as a good gesture to tenants for having been the stewards of the land grabbers for over 60 years.
JLRA Vice President Jane Achieng also made a proposal for the allocation of 150 rental units to bring net income of Ksh 3 million per month.
Cartels
Achieng also raised the possibility of the emergence of dishonest real estate brokers who could exploit tenants once the project is completed.
She said the association should be the official real estate agent for the project and will be mandated to take care of garbage collection, water, electricity and infrastructure maintenance.
The National Housing Corporation has already issued a warning to Kenyans against fraudsters posing as agents authorized to award and negotiate deals for the sale of new affordable homes under the same housing program in Park Road, Ngara.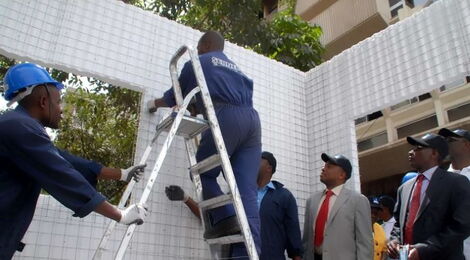 Workers from the National Housing Corporation build an example of an EPS panel house in Nairobi.