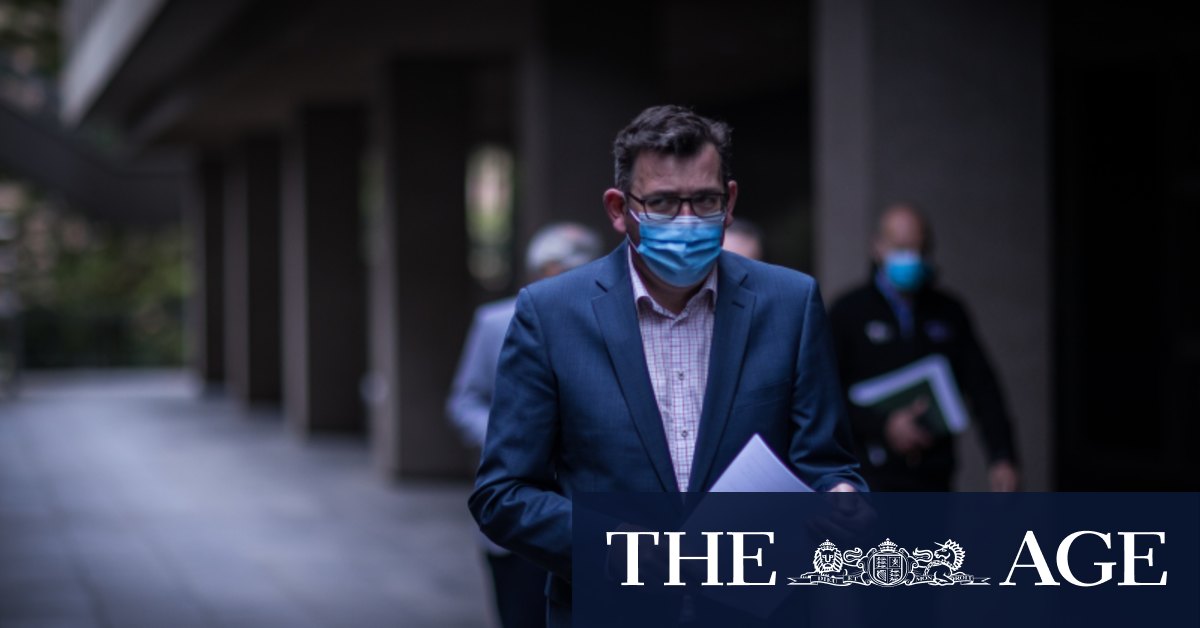 Main changes to the roadmap
Loading
Under the plan and statewide, people will be allowed to have 10 visitors to their homes each day, including dependents. The curfew and the 15-kilometer travel bubble are being lifted, but the rules around travel between regions and Melbourne will remain in place.
Andrews urged Melburnians who want to visit family in the Victoria area to be patient and wait for the state to reach the 80% vaccination milestone.
Victoria's phased return to school will begin this Friday, earlier than expected. Early childhood education and care will be open to children of vaccinated parents.
In the hospitality sector, the premises will be open for indoor food and beverage service, but only for a maximum of 20 fully vaccinated customers.
Outdoor community sport will again be permitted for training only (no competition) for the minimum number required.
Outdoor pools will be open for up to 50 fully vaccinated people and zoos will open at 25% capacity for fully vaccinated visitors.
Weddings will be allowed up to 20 fully vaccinated people or 10 unvaccinated people indoors and 50 fully vaccinated people or 20 unvaccinated people outdoors subject to density limits.
The previous opening plan would have limited the sites to 50 fully vaccinated people outdoors, so the new limit of 20 people indoors is on top of that allocation.
General retail will be open for field service only, as well as click and collect, while the hairstyle will be open for up to five fully vaccinated people.
New rules for regional Victoria
Private gatherings will also be allowed up to 10 people in the Victoria area. Public gatherings will be permitted up to 20 people.
Outdoor sites will be allowed up to 100 fully vaccinated and 20 unvaccinated people.
Indoor facilities, such as restaurants, cafes, cinemas and gymnasiums, will be allowed up to 30 fully vaccinated and 20 unvaccinated people.
In the regions, all schoolchildren will return to school on Friday.
Rapid vaccination rate almost halves death projections: Burnet modeling
Modeling from the Burnet Institute suggests that Victoria's rapidly rising vaccination rate has nearly halved the expected number of people expected to die from the virus by the end of the year.
Modeling now predicts 1,212 deaths between July and December – compared to 2,202 deaths projected on September 18.
A much faster-than-expected vaccination rate coupled with lower hospitalization levels now means the chances of overwhelming the hospital system have dropped from 63% to 23%.
Victoria's cases are higher than Burnet predicted and are expected to peak at a significantly higher level in mid-December.
However, hospitalization is lower than expected, despite higher case levels.
Burnet's updated modeling predicts cases will now stabilize around their current level, before climbing as restrictions are relaxed to a daily peak of nearly 4,000 new cases per day in mid-December.
The list of exhibition sites is growing
The Thomastown Greek Orthodox Church in north Melbourne is among the latest additions to the list of COVID-19 exposure sites.
The Church of the Transfiguration of Our Lord had a case visit on October 10 from 8:30 a.m. to 1 p.m. Anyone who was in church during this time must take a COVID-19 test and self-quarantine for 14 days.
The Hepburn Bathhouse and Spa in Hepburn Springs is also on the Level 1 list after a case visited the spa on October 10 between 1:00 p.m. and 2:30 p.m.
Bendigo Wholefoods also joined the list after a positive case presented to the store on October 9 between 7:00 a.m. and 4:30 p.m.
The Morning Edition newsletter is our guide to the most important and interesting stories, analysis and ideas of the day. register here.