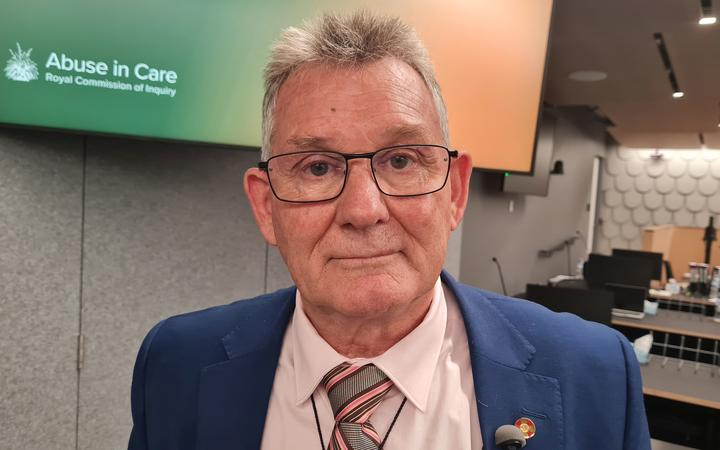 Warning: This story contains references to sexual and physical abuse and may be upsetting to some readers.
An advocate for victims of sexual abuse at the Marylands school said the sexual and physical abuse was known to many, but not all took action.
On Monday, Ken Clearwater made an opening statement at the custody abuse inquiry, which focuses on abuse at the boarding school for boys with developmental disabilities.
The Catholic order, St John of God, ran the Christchurch school between 1955 and 1984.
Clearwater said what happened at Marylands was sick and evil.
"A lot of people in positions of power knew and did nothing. The Vatican knew and did nothing, the hierarchy of the Catholic Church knew and did nothing, Saint John of God knew and did nothing.
He also distinguished many ministries, teachers, social workers, police officers and psychologists.
"Unfortunately, the list is only getting longer. "
Clearwater said he was on the Royal Commission as a spokesperson for those who could not speak.
"Those who for some reason can't come forward and relive their trauma. For people with developmental disabilities who would have been chewed up and spat out by our justice system. As one of these survivors said, "they did horrible things to us". I'm here for those who can't live with the shame, the guilt, the fear of the trauma they went through and killed themselves.
He asked how many times the word sorry came from the church.
"From the Vatican down and I can tell you they're sorry. Sorry, they were caught off guard. All over the world and especially now, here in Aotearoa-New Zealand."
Clearwater said St John of God, like many other Catholic orders, spent millions of dollars to silence the victims and their families.
"Forcing victims to sign confidential legal documents. Not to protect the victims but to protect the church, to help continue the cover-up in hopes that everything would go away and the institutions would keep their reputations without a single thought for those affected by the heinous crimes.
He said it was deceptive and evil and those who chose to cover it up were complicit in evil.
Clearwater said the trauma suffered by survivors controlled their lives.
"They are captured by their trauma. Not only by those who committed the atrocities, but by an organization so powerful that it has been supported by many government systems that they, the surviving victims, will feel unworthy.
He said they are worthy.
"For every survivor, carrying the trauma, where you are not believed, being imprisoned in your own mind and all supported by a system that hasn't and won't listen to your voice, tell me how powerful and special point each victim must endure this and survive."
"Many have been denied their natural right to education, to learn healthy life skills, to be cared for and, above all, to be loved."
Clearwater said a survivor was picked up by his mother.
"You shouldn't continue to live in the past. He says no, the past lives in me."
Where to get help:
Need to talk? Call for free or text 1737 anytime to speak to a qualified adviser, for any reason.
safety rope: 0800 543 354 or text HELP to 4357
Suicide Crisis Helpline: 0508 828 865 / 0508 TAUTOKO (24/7). This is a service for people who are thinking about suicide or those who are worried about their family or friends.
Depression Helpline: 0800 111 757 (24/7) or SMS 4202
Samaritans: 0800 726 666 (24/7)
Youth Line: 0800 376 633 (24/7) or free text 234 (8am-12pm), or email [email protected]
What's up: chat (3pm-10pm) or 0800 WHATSUP / 0800 9428 787 (12pm-10pm weekdays, 3pm-11pm weekends)
Asian Family Services: 0800 862 342 from Monday to Friday from 9 a.m. to 8 p.m. or SMS 832 from Monday to Friday from 9 a.m. to 5 p.m. Languages ​​spoken: Mandarin, Cantonese, Korean, Vietnamese, Thai, Japanese, Hindi, Gujarati, Marathi and English.
Rural Support Trust Helpline: 0800 787 254
Health line: 0800 611 116
Rainbow Youth: (09) 376 4155
To present: 0800 688 5463 (6pm-9pm)
If it is an emergency and you think you or someone else is in danger, call 111.
Sexual violence
Support for victims 0800 842 846
rape crisis 0800 88 33 00
TO HELP Call 24/7 (Auckland): 09 623 1700, (Wellington): be 04 801 6655 – 0
Safe to talk: a confidential 24/7 helpline for survivors, support persons and people with harmful sexual behavior: 0800044334.