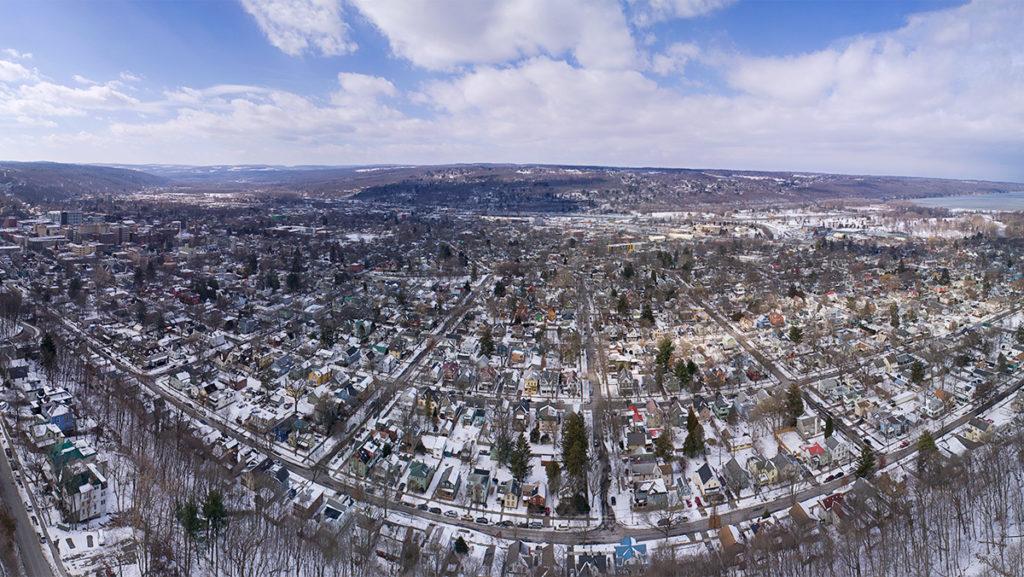 As the 2022 election approaches – following a controversial redistricting – the perceived political apathy of 1.2 million students enrolled in post-secondary education in New York State is of growing concern for long-term residents who are impacted by census college towns like Ithaca.
During the academic year, students at Ithaca College and Cornell University make up about two-thirds of The population of Ithaca. Statewide college student populations impact the census report, which in turn, affects local redistricting, determining the number of congressional seats allocated to each state and how federal funding is allocated. Students are counted in the census as residents of their college town because that is where they live and sleep most of the time. Due to the COVID-19 pandemic, the US Census Bureau has asked colleges and universities to provide off-campus student rosters. It was for the purpose of Include students in the census where they would have lived had there not been school closures or a shift to virtual learning. While counted in the census, students must choose between registering to vote in their college county or in their home county — many of which continue to vote at home.
Donald Beachler, an associate professor in the Department of Politics and a resident of Ithaca, said he's frustrated with the lack of student involvement in politics, especially when it comes to redistricting states and local cities. Ward 4 of the Ithaca Common Council has a total population of 7,594 — made up mostly of Cornell students — but only 102 votes were cast in the 2021 election for its representative on the city council, according to The Voice of Ithaca.
"My old joke was that more college students throw beer cans on the street in Collegetown than they actually vote," Beachler said. "That's one of the implications of [dense student populations]; you have very few voters.
Senior Kaitlyn Katz said when she started college she changed her voting address so she could vote in Ithaca rather than mailing an absentee ballot to her hometown of Westchester, New York .
"I liked learning a little bit more about Ithaca politics and being able to make a decision about it," Katz said. "Since I have lived in Ithaca for four years, I think it is important that I can make my voice heard where I currently live."
The city of Ithaca has published its first draft offer lines of service March 28. The draft proposal was developed with the intention of keeping neighborhoods and communities together as well as having districts within 5% of each other.
Beachler is one of many residents who want college students to be diluted in city neighborhoods, allowing longtime residents to have a greater impact on the local vote.
"They are [students that are] you'll never pay $1 in property taxes, so it's easy to sit around and raise taxes you're never going to pay," Beachler said. "But by diluting the pupils, you're going against what's generally considered good practice in drawing neighborhoods, which is to keep neighborhoods intact and draw neighborhoods compact." … I don't think anything will change.
According to the Tompkins County Board of Elections, there are 63 voters with addresses at 953 Danby Road and the Circle Apartments at 1033 Danby Road. There are also 1,140 voters with a 14853 zip code unique to the Cornell University campus. Many students who attend both colleges make a living from campus and therefore the total of 1,213 student voters does not fully represent the number of students registered to vote in Tompkins County.
Ithaca College and Tompkins County moved into a newly blue 22nd congressional district as a result of state redistricting. Before the redistricting, the college and county were in the 23rd congressional district. the current representative Tom Reed (R-NY), does not plan to run again, leaving the electoral race without an incumbent. There are currently 27 districts, but when the New York Census registered only 89 fewer people than the 2010 census, the state lost a seat in the United States House.
After the redistricting process, Democrats have a national advantage, with 182 blue districts and 147 red districts. However, mid-term, the incumbent often loses House seats to his party, and with 62 competitive precincts, the election will likely be affected by President Joe Biden. job endorsement note, which is currently at a low 40%. The Republican Party also enjoys a majority of voters among likely voters in the general election, according to congressional polling data collected by RealClearPolicies. The results showed a polling average of 46.8% Republican voters to 43.1% Democratic voters for the upcoming election.
Democratic student voters like Katz worry that blue districts with more Republican voters could be lopsided because students aren't voting.
"A lot of people in Ithaca say, 'It's blue already, why does it matter,' but I don't think that's really the point," Katz said. "We need more representation and more people need to be heard. …I don't really know how to increase the number of student voters, maybe even just inject some urgency.
Junior Jacob Shelley now lives in the city of Ithaca but votes where he grew up in Trumansburg, another town in Tompkins County. Similar to Katz, Shelley said student voices are often absent from policy discussions and decisions.
"To be honest, I think a lot of people in this area are comfortable with the fact that the Democratic Party generally has a strong presence and isn't really competitive in the Ithaca area," Shelley said. "I think of a lot of people who just put them at ease so they don't necessarily want to come out and vote. The student vote isn't too incredibly hot right now but if we can increase that I think there would be a more accurate representation of what Ithaca is because Ithaca without its student population is a very Ithaca different than when she is with a student population."
A born and bred Ithacan, Vanessa Fajans Turneris one of the first DDemocratic candidates to join the 2022 election race for the 22nd congressional district representative.
"I think the world would be a much better place if students all voted regularly, and if they voted where they felt most at home and felt most affected by policies and actions," Fajans-Turner said. "Particularly because the issues that are so close to my heart, like climate change, are the ones that will have the biggest impact on younger generations."
So far the candidates who started campaigns for the 22nd District with Fajans-Turner are Democrats Francis Conole, Sarah Klee Hood, Mikayla Ridley, Josh Riley and Sam Roberts. The Republican candidates are Mike Sigler and Brandon Williams. The deadline for filing is April 7 for candidates who present themselves within the primary state election, held on June 28. To be eligible to vote in the primary, nominations must be received in person by the Board of Elections by June 3 or by mail by June 8. Because New York is a closed primary state, voters must be registered under a specific party. Therefore, if a resident is not a registered Democrat, they cannot vote for that party's candidates and vice versa.
Despite the Republican Party's lawsuit claiming the New York redistricting is unconstitutional, Judge Patrick F. McAllister — a Republican — allowed the map to be signed on February 3 by Governor Kathy Hochul. The lawsuit comes after the Democratic Party fought for years to ban partisan gerrymandering with the Freedom to Vote Act.
Gerrymandering is the practice of drawing district lines to create an advantage for a political party by grouping voters together and diluting the opposing party into districts or bypassing areas to limit their possible seats in Congress.
"Lawsuits like this only make people more suspicious and cynical of the Democratic process and it's incumbent on every political actor and official to try to restore that faith," Fajans-Turner said. "The issues we all care about are not limited to districts."
Anna Kelles, the Ddemocratic AAssembly Rrepresentative for Tompkins County, voted to adopt the new district lines for the state. She said the priority in choosing new districts was to ensure that marginalized populations were given a voice that had previously been diluted in different districts and therefore deprived of a political voice. Kelles said any political change impacted by the new districts is an indirect result of keeping previously divided populations together.
"I find it comical in the context of what's going on across the country," Kelles said. "Looking at how voter rights are being demolished in very Republican-dominated states to a level where I think it definitely borders on the suppression of human rights."
Ithaca College Republicans is an on-campus group that champions conservative Republican Party values. In a statement to IthacaThe executive board of Ithaca College Republicans has said it strongly opposes the new map and hopes the courts will force Albany to draw a fair map for everyone's benefit.
"Albany Democrats have drawn an appalling gerrymander in an attempt to salvage their slim majority in the House of Representatives," the statement said. "Four Republican seats have been egregiously removed around the state. The map shows that Democrats are not against gerrymandering; they only oppose it when it hurts them. In a state [where] President Trump won 37% of the vote, Republicans deserve more than 15% representation in Congress. »
Nonpartisan organizations working to ensure district maps are free from political influence, such as Common Cause, are also against the new lines. Natalia Philatov, deputy director of the New York chapter of Common cause, said the lines are so heavily gerrymandered that some districts are uncompetitive. Nonprofits like Common Cause are advocating for the lines to be drawn by an independent, citizen-led redistricting commission with no political interest in the redistricting.
"Both sides engage in this kind of behavior," Philatov said. "That's why it shouldn't be up to politicians to design neighborhoods. … We need to reform this process and improve it so that it serves our communities rather than politicians. This is a disservice to voters.