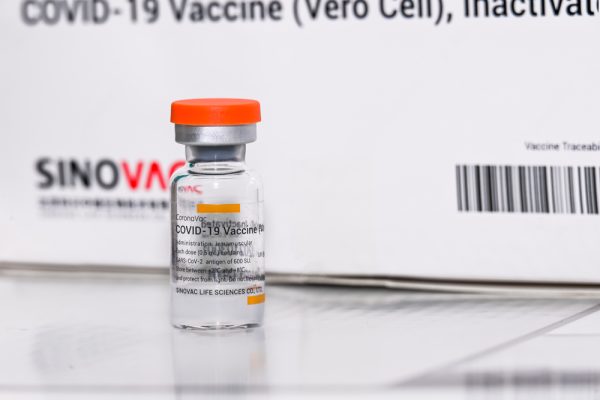 North Korea has dealt with COVID-19 as usual by cutting itself off from the world, regardless of the consequences for its people. The country now faces food shortages that are unlikely to be alleviated until the regime has some control over the virus and resumes trade with China. To end the country's isolation and alleviate the humanitarian crisis, creative and flexible options are needed.
With the emergence of COVID-19, there were at least a few hope that the expected economic and humanitarian crises could encourage Kim Jong Un to start denuclearization talks to receive aid in return. Instead, when the pandemic began, North Korea shut down completely, believing that its healthcare system, already one of the worst in the world, would not be able to cope. The population is particularly vulnerable to viral infection: In 2019, the United Nations determined that 10 million people suffered from severe food shortages and that nearly half of the population was undernourished. Voluntary isolation brought an abrupt end to the low level of trade with China, on which North Korea depends almost entirely, decline by 90% from 2019 to 2021.
The country's isolation has aggravated food insecurity. In a rare public admission, Kim referred to the food situation as "tense" last year and called for "another more difficult 'arduous walk'". The term refers to a famine in the mid-1990s that killed an estimated 1 million people. The current situation is not as serious, but the UN special rapporteur on human rights in North Korea warned in 2020 that "an increasing number of families eat only twice a day, or eat only corn, and there are reports that some are starving". By mid-2021, a valued 16.3 million North Koreans were food insecure.
Although the regime has admitted to the severe food shortages, it has so far – rather implausibly – denied having had any cases of COVID-19. Even so, while the strict containment measures could have limited major epidemics throughout 2020, several sources reported "mass deaths" within the army at the end of 2021. Civilians who show symptoms of COVID-19 are put in home isolation for seven days, after which they are moved to makeshift quarantine facilities if they have not improved. By the end of 2021, at least 185,000 people with symptoms had passed through one of these civilian facilities and the regime plans construct specialized quarantine stations throughout the country. Conditions in these facilities are dire: medicines are scarce, food rations are meager and heating is insufficient.
The government has for decades shown contempt for its own people. Nowhere is this more apparent than in the human rights situation, characterized by systematic and widespread violations which amount to crimes against humanity. Today, the regime is once again showing its willingness to sacrifice its people on the altar of ideology. While Kim and her loved ones would have been vaccinated with a vaccine made in China in December, it has not launched a population-wide vaccination program despite offers of vaccines as well as abilities. One of the ideological issues of such a campaign would be how to introduce the news of foreign-made vaccines to North Koreans, who for decades have been fed propaganda about 'juche', the self-reliance strategy. of North Korea. Furthermore, an internationally supported vaccination campaign would involve international workers to operate inside the country, or at the very least require transparency of the vaccination program, which the regime seems unwilling to consider.
Obtaining reliable information about North Korea is difficult at the best of times, but these factors likely explain why the regime has so far refused offers of aid. In May 2021, COVAX Free nearly 2 million doses of AstraZeneca vaccines at no cost, which the regime has ostensibly rejected for fear of side effects. In August, COVAX Free nearly 3 million doses of Sinovac again at no cost, which North Korea rejected, citing a greater need elsewhere in the world. Offers from China, Russia and South Korea all along 2021 were rejected.
Still, it seems the regime wants vaccines if it can get them on its own terms. Despite the regime's refusal of multiple offers, diplomats and intelligence agents were Recount by the leadership that the acquisition of vaccines was a top priority. North Korea allegedly tried to steal vaccine technology through cyberattacks on Pfizer, Astra Zenecaand South Korean vaccine manufacturers. Customs officers have would have received the vaccine in preparation for the resumption of limited rail trade with China, which occurred in January amid a tightly controlled pandemic restrictions. The regime has warned its citizens that "normal" trade is unlikely to resume before 2025, heightening fears of food shortages.
Calling vaccines "the key to opening the (North Korean) border and… bringing it out of isolation", the UN special rapporteur on human rights in North Korea recently demand for 60 million doses of vaccines to be given to North Korea. Convincing the regime to accept vaccines will take creativity and flexibility. While COVAX has strict monitoring and reporting requirements, other players may relax some of these restrictions, particularly the need for international workers to monitor in-country. Any vaccine offer could also include personal protective equipment and treatments such as antiviral pills. These may be less difficult for the regime to accept, as evidenced by recent to receive limited international medical supplies. Given China's strict dynamic zero-COVID policy, China might have an interest in undertaking secret diplomacy with North Korea to facilitate such deals to minimize the health risk to its eastern neighbor.
At the same time, the United States and South Korea could launch a countryside aimed at informing the population of the availability of safe and effective vaccines. The management fears an informed population and a potential loss of legitimacy. While North Korea reports profusely on the impact of the pandemic outside its borders, it prefers keep its people in the dark regarding global vaccine developments. Access to foreign media is very restricted and illegal, but according to to former United States special envoy for human rights issues in North Korea, Ambassador Robert King, "an important audience is listening[s] on foreign radio. The main foreign radio broadcasts are the US-funded broadcasts of Radio Free Asia and Voice of America, as well as South Korean radio KBS Minjok. An information campaign could thus complement diplomacy.
It remains to be seen how successful any of these strategies can be. What is clear is that helping North Korea help itself will require creativity, flexibility and patience.