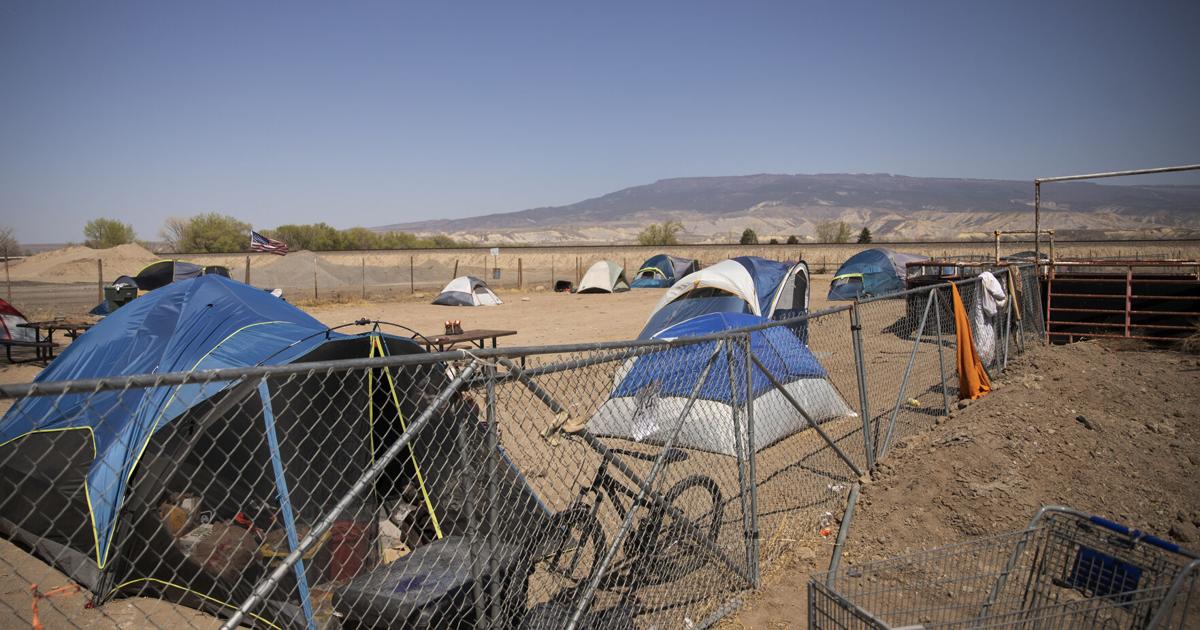 Daniel Maez, a resident of Basecamp, the homeless camp run by Delta, didn't really want to move there at first.
The camp is a rectangle of land in the city's former equestrian arena west of downtown containing perhaps 15 tents, plus three picnic tables.
Maez, 62, said he was left homeless after an apartment fire, and although he received help from friends and organizations like the Red Cross, he was forced to sleep outside in Grand Junction for three or four nights.
"I got fed up and wanted to find a campsite where I wouldn't have to hide," Maez said, noting the pressures to move while camping in the Grand Junction area.
Maez got himself driven to Delta and, on the advice of a friend, eventually made it to Basecamp.
"Packing and moving was exhausting," said Maez, who at the time had been staying at Basecamp with her dog, Buddy, for about five days. "What I like is that I don't have to pack my bags anymore."
Basecamp opened in October in the Horse Country Arena west of downtown Delta, a city-owned property. So far, the camp has accommodated up to 19 people at a time, Delta City Manager Elyse Casselberry said.
"Honestly, it was working great until recently," Casselberry said, referring to a few hiccups in late March.
Casselberry said feedback from the Delta Police Department, Parks and Public Works Department has been positive, with the departments reporting they have dealt with fewer issues than normal related to the homeless population over the winter.
"Basecamp gives us an opportunity to make sure the homeless community has a place to rest all year round. We are working to improve our other laws so that we can better address issues that arise in the city. The benefit of Basecamp for our police department and our parks department is that it provides a centralized location for our homeless community. As such, police and parks have seen a drastic decrease in the number of incidents outside of Basecamp throughout our community," the city said in a recent news release.
There have been concerns about litter and garbage, public health concerns, fires and an assault, Casselberry said.
Recent Basecamp issues "happened very quickly," Casselberry said. "It got out of control."
In response, the city is limiting fires and tightening restrictions on litter accumulation, Casselberry said.
The city recently moved the camp within the same property in order to clean up the space. The new spot is bigger and further from the road.
SECURE ENVIRONMENT
"Overall it worked," Casselberry said.
"It's gotten crazy here a few times, but that's to be expected," Maez said. "I feel safe here."
Maez said he and his neighbor looked out for each other, even though they had just had an argument that caused him to consider leaving the camp.
"Overall, I'm happier here than I was in Grand Junction trying to hide somewhere and sleep," Maez said.
Animal control officer Sam Ellison was there one recent afternoon to hand out peanut butter and jelly sandwiches that had been donated by a local church.
"People give things away all the time," Ellison said.
Maez said people coming with food aren't particularly common, but it does happen.
People must log in and register if they want to stay at the camp, which is coordinated by Delta's homelessness prevention coordinator, Cara Hadley.
Delta's other option for homeless people is Abraham Connection, a 32-bed, volunteer-run overnight shelter that averages about 25 people a night during the winter.
Abraham Connection board member Joyce Cockroft said the camp is a good alternative for people who don't want to follow the rules of the overnight shelter.
These rules include abstaining from drugs and alcohol on the premises, household chores and community service, and following a case management plan.
In recent years, Delta has seen an increase in the homeless population, Casselberry said, and last summer the city hit a tipping point with people camping on Main Street, so the city began to look for solutions.
One of the driving forces behind Basecamp was the Main Street business community, which had been upset by homeless people hanging out near their businesses, Cockroft said.
"The city felt like it had to do something," Cockroft said.
One thing city staff have heard is that before you can address the bigger issues around homelessness, you need to have a place for people to stay, Casselberry said.
Other Colorado agencies are exploring similar programs.
La Plata County Commissioners recently agreed to purchase just over an acre within the city limits of Durango for a managed camp.
Casselberry said the La Plata County camp, which has been in the works for some time, was one of Basecamp's inspirations.
The Colorado legislature is considering a $45 million plan to turn a rural campus near Watkins in Arapahoe County that once housed teenagers in the criminal justice system into a recovery campus for the homeless.
People could stay there for up to two years and receive mental health treatment and job training.
Casselberry pointed out that Basecamp is a temporary place for people to stay while the city looks for long-term solutions.
"Ultimately, we hope to find solutions that address the issues affecting the homeless community," Casselberry said. "Having a temporary campsite may not be the long-term solution."
Casselberry said the process of identifying those solutions is ongoing, with outreach to other agencies and finding gaps and solutions to fill those gaps.
The main issue people see in the homeless community is mental health, Casselberry said.
"It's really clear that mental health is one of the starting points that we need to talk about," she said.
Casselberry said camp costs have been fairly minimal, including portable potties and waste management, and costs the city has always incurred in dealing with the homeless population, such as staff time for medical services. emergency and law enforcement.
The city was able to use many of the existing fences and trash cans in the camp, Casselberry said.
At camp, Ellison had Maez remove Buddy from a nearby picnic table. Maez protested, saying other dogs might attack Buddy.
Ellison also informed Maez of an upcoming taping, neutering, and neutering event he could take Buddy to.
Maez said he would like to save Buddy, but he didn't know how to sterilize him.
"We don't need more puppies running around," Ellison said.
"I don't know if I could put him through that," Maez said. "I wouldn't want that to happen to me."