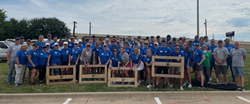 HOUSTON (PRWEB)
July 12, 2022
David Weekley Homes recently partnered with 18 local nonprofit organizations as part of the company's CARE Build Month projects. Across the country, team members contributed over 3,800 volunteer hours to various projects that benefited over 1,000 people.
"At Sleep in Heavenly Peace, we believe it is important for a child to have a bed to sleep in and we know that the David Weekley Homes corporate culture believes in giving back to the community," said Dwan Smith, president of the Nashville chapter of Sleep in Heavenly Peace. "We are very grateful for this partnership which helps to get children off the ground."
Seventeen of the company's 19 local divisions as well as the head office have all completed plans to build a total of 963 beds. This included partnerships with the following local chapters of Sleep in Heavenly Peace in these cities:

Charlotte

Nashville

denver

Portland

colorado springs

Charleston

Houston

dallas

San Antonio

Phoenix

Minneapolis/St. Paul

Jacksonville

Austin

Orlando

Raleigh

Indianapolis
A total of 950 team members participated in these projects across the country, many of whom also helped deliver the new beds to the children.
"I was proud to work alongside my team members to build 51 bunk beds for children in need. It's a great feeling to give back to our community and to know that we have provided many local children with a place to rest at night," Alyssa said. Ward, a sales consultant for David Weekley Homes in Orlando: "Sleep in Heavenly Peace is an amazing organization and I look forward to volunteering with them in the future."
Local divisions in Atlanta and Salt Lake City have participated in construction projects with early childhood education centers. Projects included building a playhouse, painting, building storage shelves and minor repairs.
"Having a group of team members together to serve our community through HomeAid Atlanta and the Atlanta Children's Shelter was not only rewarding for our team spirit, but also a reminder to take the time to s 'stop and participate in improving our community,' said Chris Nies, purchasing manager at David Weekley Homes in Atlanta.
In addition to team member volunteerism, the company has also received project support from business and supplier partners, real estate partners, and the community assisted with bedding and toiletries donations.
The project was an initiative of the company's CARE program, which is a charitable and voluntary program that connects team members, owners, buyers and community partners with nonprofit organizations to have a positive impact. in the lives of everyone he touches and in all the communities he builds. through its lens, Building Dreams, Improving Lives. This is accomplished by the company's team members who dedicate countless hours to different organizations in their communities. Additionally, more than $250 million has been donated over the past 20 years to worthy causes in the United States and abroad through company profits and the Dovetail Impact Foundation (formerly the David Weekley Family). Foundation).
About David Weekley Homes

David Weekley Homes, founded in 1976, is headquartered in Houston and operates in 19 cities across the United States. David Weekley Homes was the first builder in the United States to receive the Triple Crown of American Homebuilding, an honor that includes "America's Top Builder", "National Housing Quality Award" and "National Builder of year ". Weekley has also appeared on Fortune's 100 Best Companies to Work For list 16 times. Since its inception, David Weekley Homes has closed over 110,000 homes. For more information about David Weekley Homes, visit the company's website at http://www.davidweekleyhomes.com.
Share the article on social networks or by e-mail: