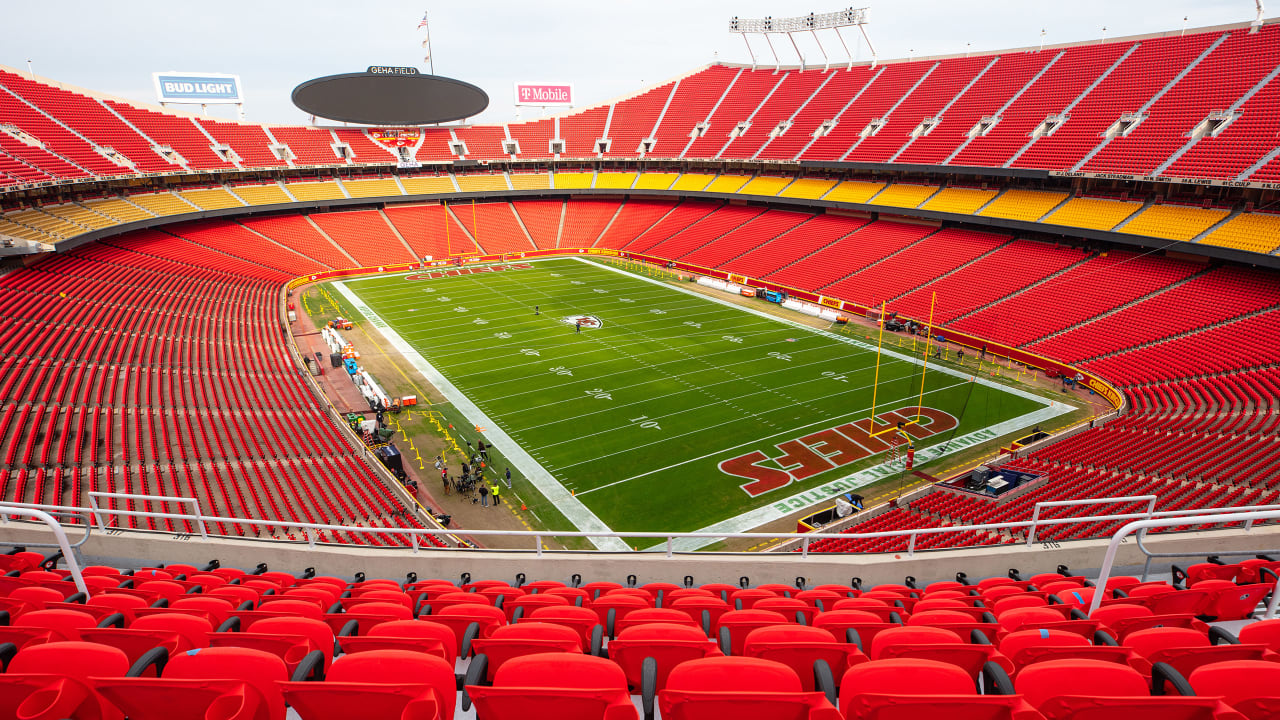 The Kansas City Chiefs will host the Las Vegas Raiders on Monday, Oct. 10 in the club's second regular season home game at Arrowhead Stadium's GEHA Field. Fans can find important information and reminders regarding Monday's game below.
GRAMMY-winning artist Erica Campbell will sing the national anthem as the Overland Park Police Department presents the colors. Wings of Blue, the US Air Force Academy parachute team, will have a pre-game performance. After the first quarter of the game, there will be an "I Cheer For" moment for this week's Crucial Catch theme. The halftime will feature a Crucial Catch Tribute, complete with Crucial Catch ribbons, which will feature seven survivors and their doctors from TUKHS, one representing the seven screenable cancers.
Parking lots for Monday's game open at 2:30 p.m. All parking passes must be purchased in advance at www.chiefs.com/stadium/parking/ as payments will not be accepted at parking tolls. Fans must access all tickets and passes www.mychiefsaccount.com or the Chiefs Mobile app prior to arrival. Tickets and parking passes are mobile-only and fans are encouraged to save to their mobile wallet for easy access. Fans can follow traffic and construction via the KC Scout camera network at www.kcscout.com/ or can get real-time traffic updates on the WAZE app. Fans are encouraged to plan ahead and arrive early.
Fans should expect major delays due to rush hour traffic on the 435 and 70 freeways, as well as on the streets around the Truman Sports Complex due to Monday's game start time. Fans are urged to plan ahead and arrive several hours before kickoff to avoid peak times and minimize delays. Drivers not going to the game but normally driving past the Truman Sports Complex are suggested to identify an alternate route to avoid rush hour stops. All fans should visit www.chiefs.com/parking to make their travel and parking plan.
Fans unable to attend Monday's game can tune in to WDAF-FM (106.5 The Wolf), the Home of the Chiefs radio network, as "Voice of the Chiefs" Mitch Holthus, former Chiefs WR Danan Hughes and secondary reporter Josh Klingler call it action. Tico Sports will produce a Spanish-language show on KPRS Hot 103 Jamz HD2 (103.3.2 FM) and KSSA La Ke Buena (105.9 FM) with Enrique Morales, Oscar Monterroso and sideline reporter Hannah Bassham. Both radio shows are also available to stream on the Chiefs Mobile app within a 50-mile radius of the Kansas City metro area. Monday night's national primetime game will air on ESPN where play-by-play announcer Joe Buck, analyst Troy Aikman and sideline reporter Lisa Salters will make the call. The game will also stream locally on KMBC.
Stadium gates and mobile entrance
All gates to GEHA Field at Arrowhead Stadium will open at 5:00 p.m. for the 7:15 p.m. kick-off. Doors for guests with tickets at the CommunityAmerica club level will open at 4:30 p.m. Guests are reminded to access their mobile tickets and parking passes before the event and add them to their mobile wallet for entry. accelerated.
The Ford Tailgate District, located in Lot M on the north side of the stadium closest to Lancer Lane, is a free space for all fans to enjoy drink specials, food trucks, tailgating games and live entertainment. live before kick-off. The Ford Tailgate District opens at 3 p.m. Monday and features performances by DJ Lazer and Big Time Grain Co.
The Chiefs introduced the GEHA Deck in 2019 as the home of two playing traditions: the Drum Honoree and the Tony DiPardo Spirit Leader. University of Kansas Jayhawks men's basketball head coach and two-time national champion Bill Self will be this week's Drum Honoree, while Renee Jeria, a 17-year-old breast cancer survivor, will be the Tony DiPardo Spirit Leader of the match.
To help celebrate the franchise's 60th season in 2019, the Kansas City Chiefs introduced the Lamar Hunt Legacy Headquarters to GEHA Field at Arrowhead Stadium. For each home game, the club selects a season ticket member to be honored with this special recognition. The two golden seats are located in section 121 of the lower bowl, symbolically positioned as Lamar Hunt in the team's Ring of Honor.
Jolene Gewin is the winner of this week's Lamar Hunt Legacy Seat. Jolene is a retired educator who taught for 28 years in St. Joseph, Missouri. During those 28 years, Jolene taught special education for eight years and piloted the Class-Within-A-Class program. In 2018, Jolene and her daughter started their season ticket and loved every minute of it. Jolene is a breast cancer survivor after being diagnosed with a rare form of breast cancer in 2008.
Hunt Family Foundation 50/50 Raffle
The beneficiary of this week's 50/50 draw will be the University of Kansas Health System Cancer Center Proton Therapy Center. For the Primetime Special, raffle tickets are priced at 200 tickets for $40, 60 for $20, and 10 for $10.
Fans not at GEHA Field at Arrowhead Stadium on Monday can also enter the Hunt Family Foundation 50/50 raffle by visiting www.chiefs.com/fans/5050raffle. Online sales are currently live, but fans must be in the states of Missouri or Kansas at the time they purchase a ticket online. In-person raffle tickets will remain on sale until the end of the third quarter. The winning ticket will be announced in the stadium and posted during the fourth quarter of play and winners do not need to be present to win. Credit and debit cards will be the only method of payment accepted by 50/50 Raffle vendors.
All concession stands and retail outlets are completely cashless. In addition to traditional scan and chip reader options for credit/debit cards, all fixed outlets offer tap or scan mobile payment options, including Chiefs Pay, Apple Pay, Google Pay and Samsung Pay. Street vendors and vendors in the stadium only accept credit cards.
The NFL Clear Bag Policy is in place for all events at GEHA Field at Arrowhead Stadium. Fans can visit www.chiefs.com/stadium/clearbag for important clear bag policy information and a complete list of permitted and prohibited items. Although a clear bag policy is in place, guests are encouraged to avoid bringing a bag into the stadium, if possible, to expedite their entry process. Fans can visit www.chiefs.com/stadium/prohibitedpermitteditems for a full list of permitted and prohibited items.
Guests will experience more seamless entry with new CEIA OPENGATE security screening technology at all stadium entrance gates this season. When guests approach the stadium, they must keep items in their pockets and/or empty their bags as they pass through the new advanced screening devices while following the instructions of security personnel. All fans should continue to move through the filter gates at a normal pace, as there is no need to wait for the person in front or stop unless instructed otherwise.
If Guests have questions or need assistance, including with accessible services, they can contact Fan Experience at (816) 920-4237 or by email at [email protected] Starting at 8:30 a.m. on the day of the event, guests can also text (816) 920-4237 with the location and issue.
Chiefs vs. Raiders on Monday, October 10
2:30 p.m. – Opening of the car park doors
3:00 PM – Ford Tailgate District opens
4:30 p.m. – CommunityAmerica Club Level Doors Open
5:00 p.m. – Gates open for the entire GEHA field at Arrowhead Stadium
6:15 p.m. – Start of team warm-ups
7:05 p.m. – Presentation of the Raiders team
7:07 p.m. – Presentation of the team of chefs
7:10 p.m. – National anthem